Enjoy the personalized travel experience focused on your comfort, safety, privacy and time and avoid the hassles of commercial airline travel. Whether traveling for business or pleasure, private aviation takes you to over 3500 airports not available to commercial jets. AirResource Group partners with AirResource Charter and other Certified FAA Approved Part 135 Air Carriers to coordinate specialized charter assistance.
ARGUS International, Inc. is pleased to announce that AirResource Charter, LLC has become the only Arkansas-based Charter Operator to currently hold an ARGUS Charter Operator Rating. AirResource Charter achieved an ARGUS Gold Rating, which is granted to operators who have scored favorably in comparison to similar operators. To earn a Gold Rating, an operator must pass a historical and background evaluation, which includes compilation, processing, and scoring the commercial certificate, pilots and aircraft associated with each certificate.
AirResource Group Charter Brokerage Services

Flexibility of choosing among many available aircraft
Provide interim and additional lift options
Maximize productivity while saving time

AirResource Charter, LLC

Certified FAR Part 135 Operator
FAA compliance to ensure safety, insurance and flight crews
FAA Carrier Certificate #3A1A745M
Revenue generating options
Your TIME MACHINE awaits...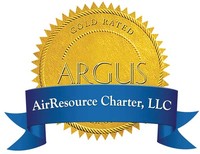 AirResource Group, LLC arranges flights on behalf of its charter clients with FAR Part 135 direct air carriers that exercise full operational control of charter flights at all times. Flights will be operated by FAR Part 135 direct air carriers that have been certified to provide service for AirResource Group clients and that meet all FAA safety standards and additional safety standards established by AirResource Group.
501-492-4371 | 479-419-5862
TRUST EXPERIENCE - EXPERIENCE TRUST