Raisbeck Global Dealer Network
AirResource Group has partnered with Raisbeck Engineering adding the superior product line of aircraft upgrades to our growing list of aircraft services. As one of the limited Raisbeck authorized installation centers, we are proud to be a part of this team.
See and Be Seen with Boombeam High Intensity Discharge Lights!
AirResource Group and LoPresti Aviation has formed a stragic partnership to offer High Intensity Discharge (HID) Lights known as Boombeams. Boombeam HID Increases Safety, Produces 500%+ more light in most applications, Reduces Electrical Load and Heat AND has a 5 year/5,000 hr Warranty. For more information and to schedule your installation call 479-419-5862. LoPresti Aviation
Air Agency Certificate
The FAA has issued AirResource Group LLC its Air Agency Certificate #3AIR745M after undergoing a thorough certification process in maintenance, preventive maintenance, inspection, and alterations of aircraft and aircraft products. The maintenance, repair and overhaul (MRO) facility centrally located at the Springdale Arkansas airport (KASG) provides complete acquisition, sales and support services for a wide variety of business aircraft.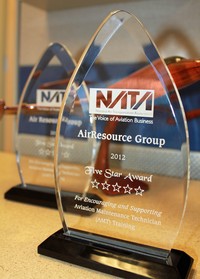 Our award winning and experienced maintenance technicians have a reputation for excellence with an unrelenting focus on safety and customer service. AirResource Group technicians are dedicated to stay current with the latest developments in maintenance protocols to provide the most intelligent and informed solutions to our clients. Simply stated…We have a Passion for Excellence without Compromising Enterprise and Creativity.
Safety First
Virtue of Experience in personalized maintenance with a vision of safety, support, coordination and effective communication
Meeting FAA and manufacturer requirements in maintenance, inspections and responding to service bulletins to assure safe operation of your aircraft

Maintenance Management
Maximum business transparency with multiple levels of oversite
Success by design approach to Aviation Maintenance
Presence of Quality without eliminating Flexibility
Personalized Maintenance Tracking Program
Forecast upcoming downtime and projected costs of scheduled maintenance items

Reduced Costs
Parts Manager negotiate best possible price on parts
Routine and Scheduled Maintenance and Inspections
The ability to provide evolved solutions to support any customers' specific needs
Prepurchase Inspection Oversight & Coordination
Due diligence is a must when purchasing an aircraft. Our experienced Maintenance Technicians will coordinate and oversee your prepurchase inspection to minimize your cost exposure while maximizing the value to our clients.
Airframe – Engine & Avionics programs
Understand the value of these type programs with reference to future operating costs and residual value
SECURELOG®
Regulations require that all aircraft maintenance be recorded in the aircraft logbooks. An aircraft's value is greatly reduced should logbooks or records be lost or destroyed. SECURELOG® is AirResource Group's proprietary electronic records management service helping owners protect their assets by capturing all important documents in a searchable, electronic database.
NATA 5 Star Award for SEVEN years straight!
TAC AIR Facility 2201 Bond Street Little Rock KLIT 501-492-4371
MRO Facility and Office KASG 935 B Caudle Springdale 479-419-5862
TRUST EXPERIENCE – EXPERIENCE TRUST